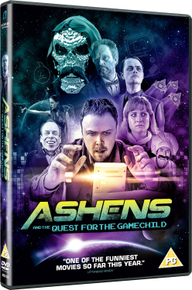 Ashens and the Quest for the Game Child
Released By:
Anchor Bay Entertainment
Rating:
PG
Running Time:
88 Mins
Audio:
English TBA
Release Date:
14/7/2014
Reviewed By:
Sandra Scholes
Ashens takes the journey of his life to get the GameChild, a long lost item he has always wanted. As everyone has something they always wanted in their lives, Ashens sees the fact that if he didn't obtain this console, it would be the worst outcome ever!
Starring YouTube superstar Stuart Ashen and other well-known actors such as Star Wars' Warwick Davies and Red Dwarf's Robert Llewellyn, the quest for the GameChild has Ashens dashing around for old games consoles to the point where he has to find the ultimate one he needs in his collection. Ashens starts out in search of a Digidog from 2002 that takes him to Ikbal, a corner shop owner who tries to look a mixture of cool and dodgy and you wonder if he can really help him or will he try to dupe him. Stuart Ashen is from You Tube and people know him for his reviews of cheap tat (apparently), animations and flogging computers, but he isn't all that successful. All he seems to want to do is find the obsolete hardware from the past twenty years or further. He constantly trawls eBay, antique and other thrift shops hoping to find what he is looking for, though the one console he needs most of all is the Game Child.
The intro song sounds like it has been taken straight out of a James Bond movie/Johnny English and has all the hallmarks of a winning comedy that should be also made as a series. Ashens is made to look like a rough James Bond character who never looks like he gets anywhere in life while the movie is an attempt to be like a Shaun of the Dead style replica mixed with the lead character acting with a James Bond drive to always get what he wants. It's impressive and a really good laugh with characters who seek to show how useless Ashens is at his mission. There's humour, action and one liners in abundance.
Bonus Material:
Behind the Scenes, Life Through a Lens, Rob Llewellyn Interview, Stormtrooper Tour, Game Child Commercial, Warwick Davis Promo, Art Gallery Tour, Outtakes, Character Trailers, Deleted Scenes and Trailers.
Verdict:
If you liked Shaun of the Dead and comedy sci-fi, then you'll love this.