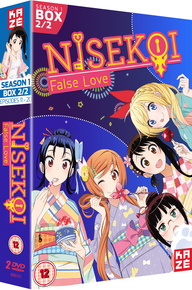 Nisekoi False Love Season 1 Part 2
Released By:
 Manga Entertainment
Rating: 
12
Running Time:
 309 Mins
Audio:
 English & Japanese DD 2.0
Aspect Ratio:
16.9
Release Date:
 19/10/2015
Reviewed By:
 Sandra Scholes 
"Have you ever heard it? The phrase "zawsze in love"?
Synopsis: 
High school kid Raku thinks he is in love with a girl at school and there is the possibility she feels the same about him. His ability to love puts him to the test when a mysterious girl comes to him and tells him she is the girl who he loves and she can prove it!