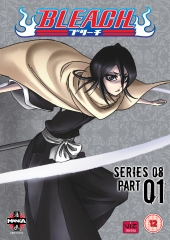 Released By
: Manga Entertainment
UK
Rating: 12
Running Time: 292 Mins
Audio: English & Japanese DD 5.1
Release Date: 19/03/2012
Reviewed By: Sandra Scholes
Ichigo, Chad
, Renji, Rukia and Uryu have all gone in different directions to deal with any foes that might be around the corner. Each one has their own foe, and they prove to be more dangerous than they look. Ichigo gets the pleasure of Dordonni's company, Both Chad, and Uryu have their respective Arrancars to come up against, Rukia discovers a long lost friend, while Renji has an encounter of a different kind with the hysterical Dondochakka. So far they have fought several enemies, from Hollows to the Bounts, but the Arrancars are different enemies. They are much stronger due to Aizen's use of the Hogyokou. With it he has managed to create increased strength beings with high intelligence and power beyond that of most standard Hollows.
Kubo has made a clever use of his new creations, and to cause conflict among them in the series, he has put them into several different categories, Espada being the strongest and highest ranked.
Privaron Espada are lower ranked Arrancar who at some point have had their privileges taken from them when they were once high ranking Espada. These have to fight to get the attention of Lord Aizen in the vain hope he might notice them and let them ascend back to their place at his table. Dordonni mentions his experiences of being one of the high ranking ones, and tells Ichigo during their fight that once he has been at the top he gets used to the view. Rukia has the strangest experience of all Ichigo's friends as she encounters a man she has not seen since she was a young woman, and not even a seated officer at the time. Ichigo doesn't know what it means to be a Privaron Espada, and misses the plot entirely – maybe he can understand later in the series.
Chad
's as strong as he can be, but they don't like the idea of Orihime being kept in a cell – their horror is not knowing what the Arrancar are doing to her, and after all, she is the reason they went into enemy territory in the first place.
There are several humorous points to this anime that take the viewer away from all the battles that are going on; Ichigo calling Dordonni Don Panini for one, Renji being chased around by the crazy and Nel fixated Dondochakka, Nel drooling all over Dordonni when Ichigo gets in a sizable blow against him – there's something about Nel's drool, but it's too easy to say anymore here.
One of the down points of the recent Arrancar Arc is the annoying intro telling everyone about what happened in the previous episodes – if you are a fan – you will already know what happened!
Bonus Material
:
Art
Gallery
and Opening and Closing Songs.
Verdict: Amusing as well as serious, and speaks from the heart even though it is an action anime.