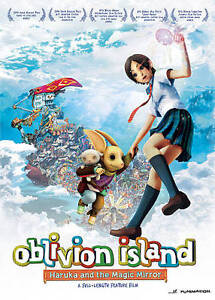 Oblivion Island: Haruka and the Magic Mirror
Released By:
Manga Entertainment
Rating:
12
Running Time:
100 Mins
Audio:
English & Japanese DD 2.0
Release Date:
1/4/2013
Reviewed By:
Sandra Scholes
Haruka is 16 and has to look after herself as her mother died when she was young and left her with a hand mirror to remember her by. It isn't just a memento of when she was alive, though, the mirror is very important later. Haruka soon forgets about the mirror as she grows up, and when she goes to a shrine, she sees a fox-creature and follows it around until she tracks it into another dimension. This dimension is called Oblivion Island, a place that is made up of lost items humans have long since left behind.
Haruka realizes she might be able to find her mothers mirror she had thought was previously lost, but she has to be careful as humans aren't welcomed in Oblivion Island and even Teo the fox she has befriended will have to watch themselves.
Oblivion Island: Haruka and the Magic Mirror is directed by Shinsuke Sato, who also directed the two live-action Gantz movies. The voice actors are also renowned for playing other parts too, Haruka is voiced by Haruka Ayase who had also starred in Cyborg She, Ichi and Hotaru no Hikari. Teo is voiced by Miyuki Sawashiro who appeared in Rozen Maiden, High School of the Dead and Strike Witches.
The main antagonist of this movie is The Baron who is ruler of Oblivion Island and has an interest in getting his hands on the magic mirror her mother left her. His henchmen are a trio of dodgy gangsters who aren't exactly what you would call bright. Haruka is a normal girl who grew up with her mother until she was taken ill and died. While she was in hospital, she read her the story of the fox followers of the god Inari. She sees this as a sign that she could wish for something if she gave the god an offering at the shrine, and does just that. Her only wish is to bring her mother back, and everything would be back to normal, but what she doesn't expect is to find another world outside the one she knows. I liked the fact that what Haruka thought was a fox god was actually a normal everyday fox who stole the objects no one in the village was interested in, so in a way she misjudges the whole story as being real.
Oblivion Island: Haruka and the Magic Mirror is a Japanese take on the popular Alice in Wonderland fairy tale, and is an exciting roller coaster ride of a movie that takes Haruka from normality to both a fun and dangerous place far removed from what she is used to. The animation looks more realistic than the standard anime series we are used to seeing, but the dubbing leaves a lot to be desired, as the lip syncing isn't quite right, and that in a way might affect its appeal to the English masses. The only solution I would suggest would be to watch it in the original Japanese to fully enjoy it, which defeats the point of this release.
Bonus Material:
Behind the Secrets of Oblivion Island, A Visit to Fushimi Inari Shrine, Battleship Island: An actual Oblivion Island, Greetings At the Premiere, A Word from the Cast, The U.S. Premiere, Haruka and Teo's Panel Puzzle, A Journey through Fox Folklore, Sierra Leone Relief Spots, Original Teasers, Original Trailers, TV Commercials and English Language Trailer.
Verdict:
Children and adults will love this movie for its exciting plot and wonderful locations.