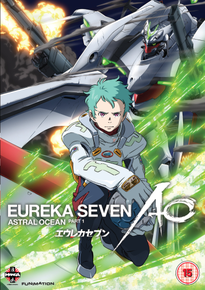 Eureka Seven AO Astral Ocean Part 1
Released By:
Manga Entertainment
Rating:
15
Running Time:
250 Mins
Audio:
English DD 2.0 & Japanese DD 5.1
Release Date:
6/1/2014
Reviewed By:
Sandra Scholes
As the sequel to the original Eureka Seven series, this goes further to explain what happened to the planet and its people. The main story is about an organization called Generation Bleu that kills Secrets using mecha once they come to the planet, but with more Secrets trying to come through, what will they do when they manage it?.
Ao isn't shocked to discover Naru has had an awful dream. He thinks it's her special powers that have enabled her to have it, but she isn't so sure. She does have precognitive dreams that work out for the good or ill for the world around them, but she isn't the sort of girl to boast about it. They go to Iwato Jima to rescue Noa who has taken the form of a sloth, but as there is going to be a predicted fire there, they must get her out of there. After Naru has got Noa, they come upon three guys who have been paid to transport ECUs for IFOs, but when they land on the island, one of them reacts and a scub coral emerges.
As this is the second series of Eureka Seven, it concerns a place that could have been Noa's eden, but the greed of man has changed the course of events. Naru has something the three guys want later that seems to be important, so it's good to assume he will have a run in with them soon enough. Animation wise it's well done and puts the viewer far into the future. Ao, Naru and Noa are a fun bunch of characters, but the story is very different from the original series, and it might confuse some viewers. This distraction aside, there are the usual issues of future set anime; technology that can go awry, a great person can organise an eden for humanity but it only takes one idiot to ruin it and when someone takes an unusual object that is worth something - someone else will help them fend off the bad guys. Eureka Seven AO Astral Ocean Part 1 is a viewers leap into a technology filled world where anything can and will happen.
Bonus Material:
Episode 5 Commentary, episode 10 Commentary, Inside the Booth: Eureka Seven Ad, Original Commercials, Text less Opening Song "Escape" , Text less Closing Song "Stand by Me" and English Language Trailer.
Verdict:
It's an interesting sequel to the series and gives us a different look at the world through other characters.