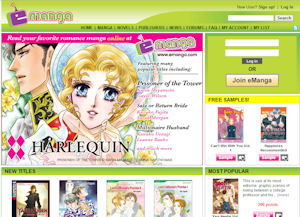 eManga: The Manga site for all!
One of the newest manga websites has been around for a few years now and it gives us a chance to see a whole new range of manga (mostly yaoi) with standard heterosexual romance, but we won't be concentrating on that for now.
eManga has got together most of the yaoi publishers here; DMP, Yaoi Press, Doki Doki, 801 Media and Eigo Manga. These are only a few of the ones available, but have a look at the range of yaoi. Obviously some you will know, but others you might not as you may not have seen work by 801 Media or Doki Doki.
The most popular yaoi manga publisher by far at the moment is DMP or Digital Manga Publishing. They have a whole host of novels to choose from including Vampire's Portrait by Hiroki Kusumoto, about a young artist who gains the interest of his new patron, Sein who wants him to do more than just paint his portrait, The Art of Loving by Eiki Eiki which concerns Yukata, a high school student whose obsession for a delinquent transfer student can only spell disaster, Barefoot Waltz by Romuko Miike has Azuma, a love shy novelist who has an interest in part-time worker Katsumi, but does he feel the same about him? Can't Win With You by Satosumi Takaguchi and Yukine Honami shows what happens when Yuuhi gets to go to a new school and has all the boys admiring him when they would just as easily have hated him.
One of the first things you will notice are the four copies of Weekly Astro Boy magazine that are now on sale for the New Year that are marked as New Releases at the top, below those are the Top Purchases which are yaoi novels loved by the readers, Latest Deals are more of the same, while PI Jane #1 Somnology 101 is down in the On Sale! category. There is a nice Emanga TV vid window where you can find out why the site is so popular with readers. The fact that they can browse the site and buy manga for their own personal device of choice, and when there is over 1,000 titles to choose from, it's a no brainer. The Day I Become a Butterfly by Yumeka Sumomo is one of the sites Editor's Pick, while Latest Reviews showcases some books readers might not already be aware of.
There is a whole host of manga on here for readers of all ages including hentai which seems to be very popular on here among the male readers.
The only downside to the whole site is that when you click on the left hand menu bar for Genre, Format, and Publisher, it doesn't work.
http://www.emanga.com