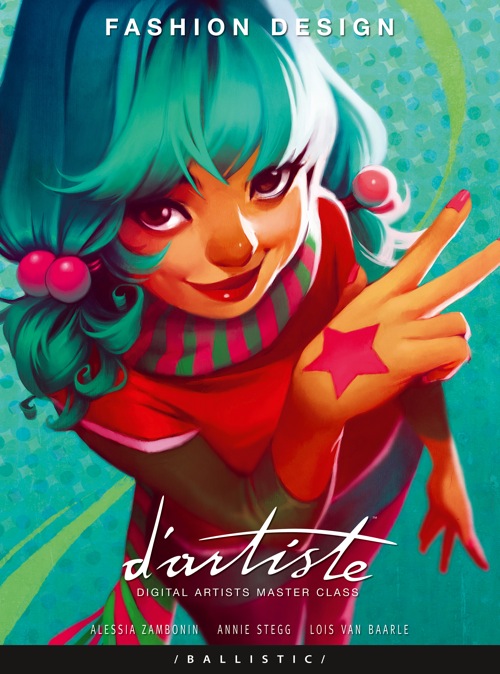 d'artiste
Publisher:
Ballistic Publishing
Pages:
208
ISBN-10:
1921828102
ISBN-13:
978-1921828102
Reviewed By:
Sandra Scholes
Synopsis:
d'artiste Fashion Design features talented fashion artists Alessia Zambonin, Annie Stegg, and Lois van Baarle, who show you the painting and design techniques to create compelling costume designs for characters. Each page is jammed full of techniques and approaches that will take your design and illustration skills to the next level. An invited artist gallery showcases the artists whose work inspires and excites the featured artists, and they offer creative commentaries on what makes the invited work great. This, the twelfth book in the d'artiste series, sets the standard for inspiration with a wide selection of fashion styles and influences.
Review:
When I saw this one, I was pretty sure I was getting more than just fashion designs as Ballistic is known for encouraging artists to draw on their fantasy, realism, science fiction and comical genres when they create their work. Here, three prominent artists have decided to showcase their work in fashion design from concept to finished piece.
With Alessia Zambonin's work, I personally wouldn't have expected to see Wolverine, complete with his adamantium claws ready to fight while in a river, or her very handsome, bishonen-style male starting out in his full outfit near a mansion's winding staircase. He being shown as step-by-step from sketches to part colour and full colour did a lot for me. The latter piece was done for the Full Figure Body & Background Design tutorial, where other potential artists could learn from it and maybe try out their own take on the artwork. The rest are other artworks that Alessia has been specifically commissioned for this art book.
Annie Stegg is well known for her painterly representations of women as fairies in different situations with colourful backgrounds. Some of the art in her portfolio featured on here has taken a bit of a change, especially with her detailed study of a lady in a flowing, silk dress, called Blue. The depth of the colour in her dress with the contrast of her magenta glove and rose belt give it the panache it needs to stand out. In her other artwork, which is featured in a set of four portraits on each page, or less, has some very Chinese inspired ladies in wispy outfits with long sleeves that look wonderful.
Lois van Baarle's portfolio concentrates on a couple of pieces of artwork where it's mainly done in step-by-step tutorials of hands, arms, feet, faces for example. In fact, I am pretty sure I have seen her pin-up art in ImagineFX magazine.
Summary:
Three artists have the opportunity to show readers their own take on fashion which will go far to interest men as well as women due to the fantasy and science fiction influences.