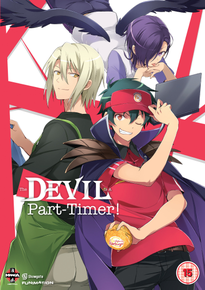 The Devil is a Part-Timer!
Released By:
Manga Entertainment
Rating:
15
Running Time:
345 Mins
Audio:
English DD 5.1 & Japanese DD 2.0
Release Date:
27/10/2014
Reviewed By:
Sandra Scholes
Satan is a name on the minds of many residents of Ente-Isla as Satan was the one who got his evil cohorts to ravage the land, killing its people even though they rightly ruled in Hell. His cruel need to conquer other lands such as the human realm caused him to needlessly destroy until his four generals; Edramalek, Lucifer, Alciel and Malakota took control of the four continents. Just as they were getting an edge over the humans, an armoured and helmeted hero stood in their way alone with a band of men, defeating them when they least expected it. In a last ditch attempt to strike feat into men's hearts, Satan made one last vow to return and reclaim the four continents as his own.
The Devil is a Part-Timer! puts Lord Satan and his general Alciel in a different setting - the human world, namely Japan. Satan announced he would be back to conquer the known world, yet he has returned in the body of a teenage boy as has Alciel. Here he learns of his limitations as he has no powers other than to hypnotise humans into doing his bidding. Satan soon learns he has to change their names, rent a house and get a job to cover the bills - cue the devil himself working part-time at a Mg Ronald's in order to make ends meet (obviously a mickey-take on the popular fast food chain).
Satan has been comically portrayed in quite a few anime series; Demon King Daimao and Blue Exorcist might ring a bell for those who like comedy horror. Satan's work at Mg Ronald's is his way of trying to make a comeback as the lord of demons even if he is only trying to serve his special black pepper fries to unwilling customers. Calling themselves Maou and Ashiya isn't the best they could do, but together they make a good team - Maou goes to work to earn the cash for their upkeep while Ashiya does the research on how to get their powers back at the local library. It all seems to be going well for the two of them when Maou meets the one person he never wanted until he had his powers back - the hero Amelia who calls her self Emi and works at a local call centre.
There are some very funny episodes in this series. Emi's stalking of Maou to find out what he's getting up to, her losing her wallet and asking to stay over at his place and Maou's Mg Ronald's team mate having a crush on him. The idea of a once all powerful demon king being reduced to a mere human who only has powers in extreme circumstances has been explored before and just like the others, this works very well using the lead character as the main source of the comedy, watching him bumble along as a demon in a kid's body desperate to frighten everyone around him but only succeeding to be cautioned by a police officer who thinks Maou and Ashiya are rehearsing a script for their new play, hoping to get the public's attention. The Devil is a Part-Timer! could be a hit with fans of similar anime series.
Bonus Material:
Play Episode 1 with Commentary, Textless Opening Song "ZERO!!", Textless Closing Song "Starchart", Textless Closing Song "Moonflower" and US Trailer. (Play Episode 12 with Commentary, The Ente-Isla Language: with Jamie Marchi is only on the Blu-ray disc.)
Verdict:
It's a basic anime premise that works incredibly well with this series - demons in unfamiliar circumstances rock!