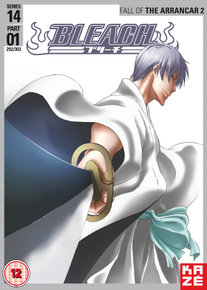 Anime Info Cards: Bleach Series 14 Part 1
Anime:
Bleach Series 14 Part 1
Ichigo and his father, Isshin are currently battling an evolving Aizen whose bond with the Hogyokou is getting stronger than ever. Disc 2 though has a single episode that introduces a character from the new Movie 4: Hell Verse.
For those who remember "Shrieker" from the earlier seasons of Bleach, he, after being dragged to the very depths of Hell has evolved and broke out to take revenge on Rukia.
Opening Theme:
"Ranburo Melody" by SID.
Closing Theme:
"Last Moment" by SPYAIR.
Funniest Characters:
Isshin, Yoruichi, Orihime, Renji, Kenpachi.