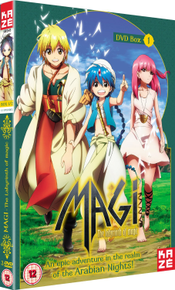 Magi The Labyrinth of Magic Series 1 Part 1
Released By:
Manga Entertainment
Rating:
15
Running Time:
300 Mins
Audio:
English & Japanese: DD 2.0
Release Date:
24/2/2014
Reviewed By:
Sandra Scholes
Alibaba finds Aladdin in his caravan munching on his shipment of watermelons and what is worse is his master wants to inspect it before it leaves. Alibaba kicks the young Aladdin out, but he sticks to him like glue when he hears him talk about the famed dungeons where a boy can find untold treasure.
Aladdin owns a magical flute that contains a Jinn, but there is also a lamp just as good which holds its own magic. Alibaba wants his freedom so badly, but is tied to his master like the slaves he buys and trades. If only he could get time to go to a dungeon - he could have anything his heart desires, but its the getting away from his master part that bothers him.
Based on Magi The Labyrinth of Magic manga novel series by Shinobu Ohtaka, Aladdin is offered anything he wants by Ugo the Jinn of the flute he wears around his neck, but all he wants is his friendship. Friendship is what he gets from Alibaba, but he has an ulterior motive, he only wants the flute Aladdin has. Magi The Labyrinth of Magic is a different take on the Arabian Nights stories of Ali Baba and the Forty Thieves and Aladdin. These two people from the separate stories are fused together in an anime setting with bejewelled scenery, colourful characters and strange man-eating plants. As the manga was rated T for teen by VIZ media, it is unusual that the anime set of three discs is rated 15. The only reason I could think of for such a high rating would be the fan service it contains. Though rather than it just being about fan service, it is funny, well produced and animated, so part 1 is a promising start to a colourful series where Middle-East meets the East of Japan with its anime, fan service and rip roaring comedy.
Bonus Material:
Opening and Ending 1.
Verdict:
For those who remember the Arabian Nights stories from being a kid - this is a cool fusion of Middle-East meets East anime style!