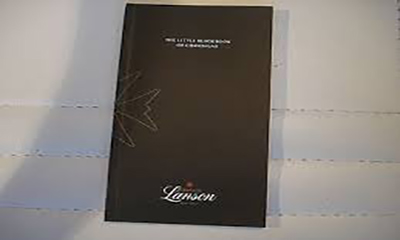 Lanson Little Black Book of Champagne
Publisher:
Lanson
Pages:
54
Website:
www.lansonchampagne.com
You may see celebrities sipping this when they watch Wimbledon along with their strawberries and cream. Lanson Champagne is synonymous with all pleasurable activities as many celebrities will no doubt know.
The Lanson Little Black Book of Champagne was available for me to take a look at and felt I wanted to review it, as for a small paperback, it had a lot of class with its black cover and white and gold lettering. Inside it is even more impressive, offering champagne's history, growing regions, going into the whole process from growing to bottling and the celebrities and monarchs who have indulged in its finer qualities.
I was also surprised that such a book held so much knowledge that would interest me: champagne's story, origins of champagne in the Arts and Champagne in the movies, champagne regions where it is farmed and made, harvesting and growing cycle, and most of all the champagne bottle sizes; can you believe there are fifteen sizes of champagne bottles - the largest one holding the equivalent of 40 bottles!
There are lots of other topics surrounding champagne that I thought I would mention; when to drink it, how to drink it and how to store it correctly. For most little black books are for keeping secret trysts, but this one deserves to be put on your bookshelf for reference once you get your magnum of champagne of course.