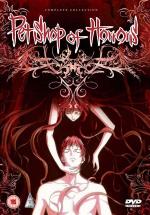 Anime Archives:
Whatever Happened to Pet shop of Horrors?
In a pet shop in Chinatown, Count D has a pet for everyone's taste. They find they are attracted to the shop and want to fulfil their deepest desires by looking for the perfect pet, but there is one catch, the pets aren't what they seem - D has anyone who buys the animals to sign a contract, and almost everyone breaks them in one way or another, resulting in some horrific outcomes.
I loved the manga, there was even a follow-up, Tokyo Pet Shop of Horrors, but when I was sent the first disc to review a few years back, I was sure there would be the rest of the series to review as well. Alas, there, to my knowledge (and I've researched it) is only one disc of four episodes. Unfortunately there were no more episodes made and to be honest I really wished they had as it is one of my favourite manga which had been made into a fun, different anime along the lines of xxxHOLIC.
This is available as a complete series on one disc.
Episodes:
1. Daughter
2. Delicious
3. Despair
4. Dual
Details for the anime:
Catalogue:
MVD2304
Licensor/Distributor:
MVM
Languages:
Japanese, English
Subtitles:
English
Release Date:
02/08/2010
No of Discs:
1
Director: Toshio Hirata
Running Time: 100 minutes
Rating: 15
Aspect Ratio: Fullscreen 4:3