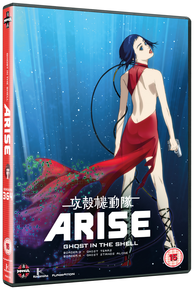 Ghost in the Shell Arise Borders: 3 & 4
Released By:
Manga Entertainment
Rating:
15
Running Time:
112 Mins
Audio:
English & Japanese DD 5.1
Release Date:
30/11/2015
Reviewed By:
Sandra Scholes
Synopsis:
When you mention a dystopian future sci-fi anime, most would instantly think of Ghost in the Shell as it has been around for quite a long time and each time improved after every movie. Now GitS offers us a series of separate two part OVAs: Border 3: Ghost Tears and OVA 4 Ghost Stands Alone. From Production IG whose credits are Ghost in the Shell and Psycho-Pass and OVA 3 Director Kazuchika Kise who is Animation Director on Neon Genesis Evangelion and Blood -C and OVA 4 Director Susumu Kudo who worked on Mardock Scramble. Viewers can expect the same sort of quality of OVAs we expected to see in OVAs 1 & 2.
Review:
In
Border 3: Ghost Tears, a terrorist bombing in Shinoji, a violent turf war and an explosion at the Yamamate dam take Major Kusanagi from her vacation. Section 9 has asked for her help despite her needing some R&R with her new man. She likes him, but he's a mystery to her co-workers. It's not just her boyfriend that's the source of amusement for Batou, it's the fact she's been with her man for three months. A detective Mizuki has been found dead washed up near the dam with nothing more on him than some personal artefacts; a hologramatic business card and a brief case with prosthetic limbs inside. The card reads: Mermaid's Legs and sets us up for a really mysterious story in the GitS universe.
Firestarter is the hacker who has been infiltrating and manipulating people's memories, but no one has ever caught him or knows his real identity. The only clue they have is a tattoo one of them has on his back - a blue ace of spades with a half dagger at the bottom which Kusanagi instantly recognises on one of the perps she helped subdue. When she investigates further she finds that this symbol has been on other perps they have come across. What annoys the team more than trying to catch this killer and his henchmen is that their superior isn't going to fund them in their search, but luckily Kusanagi's lover is an ex-military prosthetics tech who can help them out. So far, Kusanagi hasn't been so lucky with her choice of men. Six men in six months is how one man in her unit sees her, and doesn't hope the current one will last the distance. He might be wrong, though as Kusanagi enjoys his company.
Secrets and lies, covert operations and no one is what they seem in this third in the series of OVAs. Recognisable voice actors are Maaya Sakamoto, Kenichirou Matsuda, Tatsuhisa Suzuku and Christopher R. Sabat, Alex Organ and Jason Liebrecht from the English side.
In Border 4: Ghost Stands Alone, it is the aftermath of what happened in the third OVA. The enemy had escaped only to make a deal elsewhere has Kusanagi and co hot on their trail of the suspicious Harimadara Industries who are making a deal based on water but are also part of a terrorist group. Outside, the public are outraged and demonstrating as the media continue to broadcast it live when the police open fire on them and their own.
Kusanagi's superior thinks it could be the work of those ghost hackers. For fans, this couldn't be any more of a perfect release as the events are taking place during Christmas time and they are still looking for Firestarter, though Kusanagi is no closer to finding him. Taking a young girl who they suspect is the hacker into custody seems like a good idea, but her associates want her back, or they say Aramaki will regret it.
The story rotates around the Harimadara Heavy Industries Inc. and the three men around the girl they have in custody. As a viewer, you question how Kusanagi hasn't sussed something out so far, as these three appeared in the previous OVA. What proves interesting are the constant references to The Wizard of Oz, with the girl calling herself Tin Man and another called Scarecrow, they come thick and fast and in true GitS style try to confuse the hell out of you. As previous movies have been confusing and too full of techno babble, at least these OVAs take a break from that ending up as easier to watch and more involving as a result.
Episodes:
2 OVAs 3 & 4 as part of a series.
Number of Discs:
2
Packaging/Box Quality:
The image of Major Kusanagi in a red dress with an oceanic background is one of the clues from the third OVA about the major that makes it one of the best yet. This image shows that even though she's never off the job, she knows how to kick ass in style.
Animation Quality:
Very good. It is what we have come to expect from GitS and the way it has progressed in quality over the years.
Sound Quality:
Great.
Collectors' Postcards/Episode Booklet:
None.
Bonus Material:
Inside the World of Ghost in the Shell Pt 1, Logicoma Heart, Ghost in the Shell: Arise Episode (JP), Blu-ray & DVD Spots, Memory of GR: Making of Arise, Logicoma Root, Border: Less Project, Colour, Forseeing 2024, Working High, Memory, Yuki Will Never Forget Kenji, Promotional Videos, Theatrical Trailers, Text less Songs & US Trailer.
Verdict:
Futuristic setting, reasonable tech talk and stylish animation + characters we've come to know and love = two OVAs that keep us wanting more.