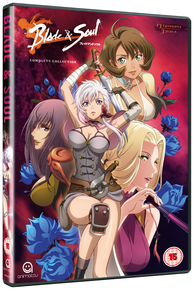 Blade & Soul Complete Season Collection
Released By:
Animatsu
Rating:
15
Running Time:
353 Mins
Audio:
English & Japanese DD 2.0
Release Date:
Out Now!
Reviewed By:
Sandra Scholes
Synopsis:
As the gaming scene is so popular in Japan, it's no wonder Korea has also got its own gaming scene. Based on a popular Korean MMORPG, Blade & Soul, Alka has been trained as the Clan of the Sword's best assassin, devoting her life to killing foes, the downside to this is that she has no emotion or concept of love that other people take for granted.
Review:
Alka has just one month to complete - to seek and destroy the others who killed her master and the Param Empire and their leader, Jin Varrel are her targets. But there are other assassins who want to take her down as well due to the hefty bounty on her head.
Though Alka is in search of the one that killed her master, Param troops come into the village telling prospective bounty hunters that Alka is the one responsible for killing her master, and a 7,000 gold bounty on her head. The Param Empire, it seems is known for its treachery and lies from the short explanation viewers will realise they will stop at nothing to find her. When Koga finds Alka, she's bathing and his guard makes the mistake of sneaking a peek at her. Koga saves his life and enlists the help of Alka, bringing her back to his village to see Morii, their leader who was left in charge after her father died. There, Alka learns about the Param Empire's plot to buy up the land around them whether they want to leave or not, and find that soon they are just as much under threat as anyone else. At that point, they realise it was a good idea hiring Alka as Morii's bodyguard and protector of the people, but also when they find out Alka used to work for the empire, they start to wonder whether they should trust her.
The story is interesting, deep but not without comedy or even fan service. Alka is quiet, strong and sensitive, though she proves how powerful she is at fighting even the strongest of men, and as she has worked for the empire before, it could be hard for them to take her down as the order was for her dead or alive. The empire wants the land to cultivate the strange blue blooms called Heaven's Spirit flowers. They have an electric blue lustre and as they have a strangely narcotic quality to whoever is surrounded by them, they could be seen as the equivalent of opium poppies. They can also give the user amazing strength, but most see it as a myth that a mere flower can do that. What Morii and Koga don't know is that it's true, and they get to see how strong their enemies are.
In Blade & Soul, the twin factions are established from the first episode. The good guys are the ordinary people who scrape a living from the fields, but making a living isn't easy when the empire are busy trying to buy it from them. The empire is seen as the enemy of the people as they are rich, greedy and live in an opulent world of their own, seeking to keep cultivating the blue flower that sends its users into a dark frenzy. This thirteen episode series has Alka having to face the prospect she might not be so strong in the face of her opposition, though it's a great series to watch.
Episodes:
1-13
Number of Discs:
3 I really liked the quality of the discs with well printed images on them.
Packaging/Box Quality:
The main cast are surrounded by the infamous blue flowers the Param Empire desire so much - this is a well illustrated cover image with a lot of colour and a lot to say about the series in general.
Animation Quality:
Great.
Sound Quality:
Good, either in the native Japanese or English.
Collectors' Postcards/Episode Booklet:
None.
Bonus Material:
Clean Opening Animation, Clean Closing Animation & Sentai Trailers.
Verdict:
Japan and Korea unite to bring us a wonderful, action-packed, sexy and dangerous anime based on a hit MMORPG!