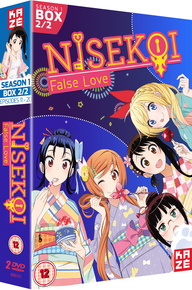 Nisekoi False Love Season 1 Part 2
Released By:
Manga Entertainment
Rating:
12
Running Time:
309 Mins
Audio:
English & Japanese DD 2.0
Aspect Ratio:
16.9
Release Date:
19/10/2015
Reviewed By:
Sandra Scholes
"Have you ever heard it? The phrase "zawsze in love"?
Synopsis:
High school kid Raku thinks he is in love with a girl at school and there is the possibility she feels the same about him. His ability to love puts him to the test when a mysterious girl comes to him and tells him she is the girl who he loves and she can prove it!
Review:
Kirisaki tells him about a phrase he
knows well, but he heard it from another girl somewhere else ten years ago. The same day he made a promise to this girl and she says she also found her old diary, remembering her thoughts at the time, but she recalls the time they played all summer, being the best of friends where they made a promise together. The difference is, they both think they had made their promise with different people. Raku originally thought he made his promise with Onadera, but as he has the lock, Kirisaki tells him she has the key that goes with it. The promise was that when they met up, together later on, they would open up the locket, but then after talking about it, they think it's a silly idea.
As nothing has happened after Kirisaki pushed her key in his lock, and the key broke, Raku thinks what she said was nonsense after all, but when her dad stops him in his tracks, he tells him some interesting things of what happened all those years ago, and what he tells him leaves Raku confused - especially when both Kirisaki and Onadera have a key each.
Until he can get the locket fixed, nothing can happen, and to save face, Raku has to make out he is dating Kirisaki. The fun part of this anime is the sight of Raku hugging up to Kirisaki and telling his friends they are a "rovey-dovey kupero," or lovey-dovey couple as it translates rather well into the English. To think they incorporated such an English phrase into their language is amazing. The romance aside, there is a gang war coming and they had all better prepare for what's coming next. Raku still needs to know who his one true love will be, but it has to be the girl who can open his locket and make all his dreams come true. Who she might be is annoying the hell out of him, but what else can he do?
This is down as the hit anime of 2014 and it has come back by popular demand this year and with the tag line of "One boy, many girls : several possibilities...Will he ever find the one who holds the key to his heart?" it is sure to have a special meaning to all the shojo fans out there who like to see another harem anime that takes a light-hearted look at romance. The idea of a man owning such a girly locket and having to show it to girls is funny enough without him being confused about which girl he is supposed to get with. Onadera and Kirisaki could be the one, but there is also the possibility that new student, Marika could be the love of his life. As a viewer it is easy to feel sorry for Raku, who tries so hard to fix the locket and find the girl who could change his life. As this is the second set and the final series of episodes that concludes it, Nisekoi False Love Season 1 Part 2 is an anime you don't have to invest too much time to watch it, and it has the sort of results that are satisfying.
Episodes:
11-20
Number of Discs:
1
Packaging/Box Quality:
This has a beautiful cover of all five girls who prove to be Raku's possible infatuations arranged in a circle with the key and lock logo of Nisekoi above them, dangling like a proverbial carrot for all to see. It is eye-catching and colourful enough for it to easily jump off the shelves at fans.
Animation Quality:
As it has been directed by Akiyuki Simbo who brought us Bakemonogatari and Madoka Magica, there is a great use of both animation and digital special effects in this anime that many will instantly take to, just as much as they did to Madoka Magica.
Sound Quality:
Good.
Collectors' Postcards/Episode Booklet:
Episode booklet for episodes 11 to 20.



Bonus Material: The bonus material on this disc consists of several different Openings & Endings.

Verdict: It's a harem and magical anime series that impresses without having to try too hard.