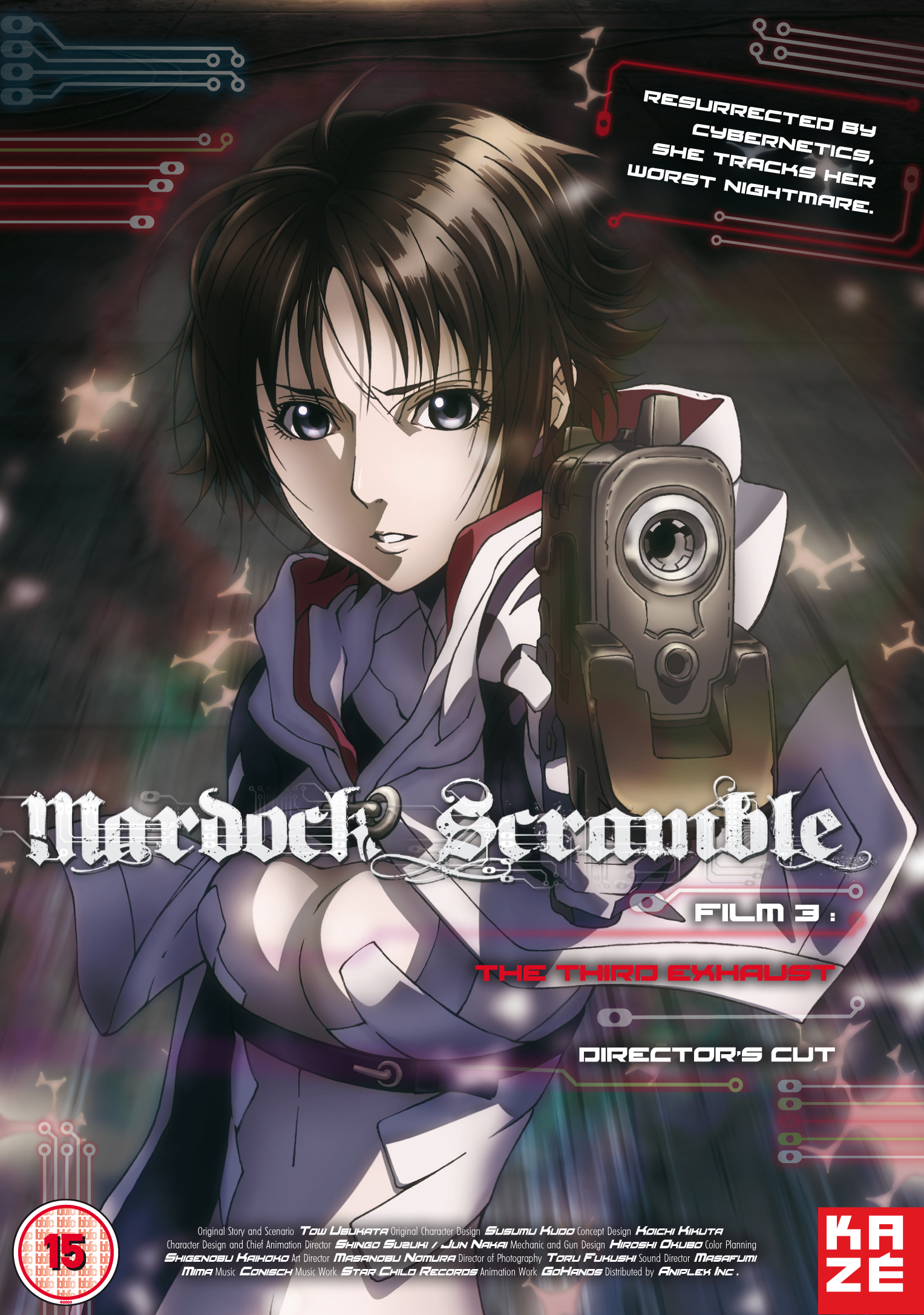 Mardock Scramble The Trilogy Collection
Released By:
Manga Entertainment
Rating:
15
Running Time:
181 Mins
Audio:
English & Japanese DD 5.1
Aspect Ratio:
16.9 Anamorphic Widescreen
Release Date:
Out Now!
Reviewed By:
Sandra Scholes
Synopsis:
Rune Balot is a young woman who wants to find friendship with others after being left on her own by her mother. As a result, she only finds herself in men's beds and her meeting Shell, her rich pimp is one of the worst things she could have done as he is a bad influence on her. One day, when he gets tired of her, he locks her in a car and sets fire to it, assuming she is dead, but thanks to a dedicated scientist, and his team, Rune is rebuilt and brought back.
Review:
After what happened to her, Rune realises she can't put her trust in anyone; and wants to know who it was that killed her and his accomplices – her intention is to track her former pimp and the rest of them down to wreak her own form of justice. Dr Easter and Oeufcoque have brought her back and can empathise with the horrors of what Rune has gone through. Now that she has a cyborg body, she has enough power and strength to take anyone on, no matter how powerful they might think they are.
What ensues are this and two other movies of utter carnage as Rune takes on the pimp who killed her and any man linked to him. On the one hand it is a revenge movie, we all have the capacity for avenging others, Sasuke from Naruto would tell us that, but on the other it gives viewers an idea of how far we could come in a technological way, with robotic limbs and attachments being fused to humans in order to make them much more than human, but the downside could be that they, in turn might lose their humanity. This in a way does happen to Rune as her sights are set on only tracking down and killing the ones who did her wrong.
While the other two movies elaborate on the first one with Rune trying to make the most of her new life and also find some kind of meaning to it. She realises she has been given a second chance to be a better person than she was before. The men who abused and led to her being killed deserved no mercy from her, and Dr Easter does his best to make sure she turns her life around for the better.
Tow Ubukata's latest offering is a far cry from his previous works; Le Chevalier D'Eon, and Fafner-Dead Agressor. Mardock Scramble, is richly animated with striking scenery, strong characters and a lot of violence and intense drama.
Episodes:
3 movies
Number of Discs:
3
Packaging/Box Quality:
Cover with main character, Rune Balot leaning on a lamppost waiting for her boss, The use of a detailed background and subtle green and gold colours make it a pleasing cover for such an adult themed anime series.
On the reverse is information on what the box set is about, the characters and the premise for the movies. Below this are three images from the covers for the three movies as they were separately released, each with an image of Rune on them. Each also has its own information below on running time, aspect ratio and audio options with other details on Extra Features.
The use of a black background for the rest of the box set's cover is genius as it gives it a dark, sci-fi look that's truly memorable.
Animation Quality:
Good, the movements of the characters is fluid and the backgrounds are detailed enough to fool the viewer into thinking they were real - other than that, the fight scenes are very enjoyable as are the explosions and technology floorless.
Sound Quality:
Great, viewers can really get a feel of the characters from either the Japanese or English voice actors.
Collectors' Cards/ Episode Booklet:
Booklet.
Bonus Material:
2 versions of each movie, Promo Video and Trailers.

Verdict:
For fans of more adult anime - this was well worth the wait!