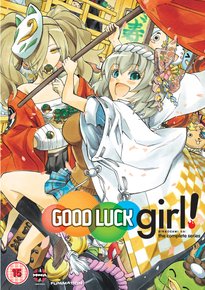 Good Luck Girl! Binbogami ka! Complete Series
Released By:
Manga Entertainment
Rating:
15
Running Time:
300 Mins
Audio:
English DD 5.1 & Japanese DD 2.0
Release Date:
16/3/2015
Reviewed By:
Sandra Scholes
Sakura Ichiko has everything. A rich family, friends who adore here, money, possessions and a happy future with a butler who views her as his own daughter. No one is supposed to live such a good life with so much luck, or at least that is according to the Momiji, or poverty god. Her job is to go down to Earth to tell her she has got too much luck for one

person, and has to give it up to her.
The point of the Momiji being there is that Sakura has too much of the luck most people wish they had, and she's also sucking the luck out of everyone else she comes into contact with. So her taking it from Sakura means her actions would redress the balance of the world. Bobby the monk comes down to Earth as he's felt a bad energy where Sakura is and he wants to sort it out. First of all, he needs a place to stay, food and drink - but he's not going to get it from Sakura - o

r is he?
When Momiji keeps trying to take Ichiko's good luck energy, she

eventually

gets it, keeping it in a cannister which Ichiko steals from her and releases it, figuring that she can give it to whomever she pleases. It seems Momiji coming into her life might not have been such a bad thing as it is slowly teaching

Ichiko how to give rather than keep getting good luck from people.
There are some touching moments when the anime really starts to get going. Where Ichiko took her butler for granted before, when he becomes at risk of getting a heart attack, she takes care of him when he is bedridden, and sees life in a very

different

way. The

feuding

between Momiji and Ichiko doesn't tire either, and the addition of several characters throughout t

he series only goes toward making it a more enjoyable one.
Bonus Material:
Play Episode 4 with Commentar

y.
-Episode Commentaries,
Video Commentary, Textless Opening and Ending, US Trailer.
Verdict:
Upbeat, fun and energeti

c comedy that tickles at your funny bone for hours!