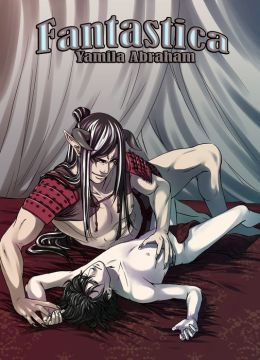 Fantastica Volume 4
Released By:
Yaoi Press
Writer and Artist:
Yamila Abraham
Cover Art:
Martina Peters
Release Date:
Out Now!
Reviewed By:
Sandra Scholes
Just when things were hotting up with the story, it takes a different turn and keeps going strong - Levi has taken to telling Felix that he has been possessed by Hayden, and this, for Felix sounds a little strange as Levi is supposed to be straight and has a girlfriend who originally kept coming back to see him. Felix finds it odd that Levi has suddenly turned gay and isn't too bothered about his girlfriend finding out about them.
For Felix, this new arrangement between him and Levi seems to be working out well. Even though Darius wants Felix back, he instead wants to continue his amorous relationship with Levi as he gets to make love to Hayden, someone who he actually does love.
Felix thinks Levi is being manipulated by the spirit of Hayden, but tells him he is fine with it and actually feels as though he is beginning to have affections for him. It could also be seen as cheating on him with Levi, but this whole story of demon possession somehow makes it acceptable for Felix to be having sex with Levi using the excuse that he is being possessed by his lover.
Fantastica Volume 4 plays out like a long running joke on Felix, and it depends on how it ends as to whether he will be laughing at the end of it.
Verdict:
Fantastica is a guilty pleasure you just have to get your hands on!