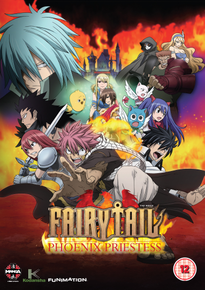 Fairy Tail The Movie Phoenix Priestess
Released By:
Manga Entertainment
Rating:
12
Running Time:
250 Mins
Audio:
English & Japanese: DD 2.0
Release Date:
28/7/2014
Reviewed By:
Sandra Scholes
Naruto, Bleach and One-Piece has its movies, and now it's Fairy Tail's turn with its feature film that has Natsu, Grey and all his freinds around for a family fun adventure.
The Fairy Tail characrers are always ready to help out and none more so when a girl who has a vague memory of events that have happened to her. She has a strange past where a mad prince had a plan to sacrifice her so he could get immortality. As we all have come to know about the series, there are consequences to our actions and the prince in his greed and selfishness sets off a chain of events leading to the possibility of a war that the others can only hope to prevent. To say Fairy Tail has been around is an understatement, so it is about time that it had its own movie.
So far everyone has had missions they have failed at, but Lucy is feeling bad after letting a series of criminals go who are part of a gang. This was to be the Guild's last chance at impressing their benefactors, but they are hardly likely to trust them again with the news that Lucy let them escape.
What they don't understand is that the gang's cruel leader has special powers of his own that give him the ability to slide through cracks in the wall. As this is a simple side story, there isn't much time focussed on it and soon, thanks to Lucy again, we are onto the second and more important story in the movie. Lucy meets Eclair, a priestess who has danced in what looks like a Teutonic/Celtic ritual ceremony complete with bonfire and Stonehenge style monoliths. The ceremony gets interrupted by invaders who are searching for the Phoenix Stone, one half of which the priest has given to Eclair for safe keeping before he dies. Once he knows she is safe with her friend, Momon a huge yellow chick he thinks she has a chance to change the future and keep back the evil that might rise out of their greed for the stone.
Lucy has a hand in helping Eclair retain some of her self esteem after nearly being killed during the ritual. Everyone else who was there ended up being slaughtered by the mercenaries who wanted the stone, so she realises she got lucky. Momon has to spend most of the time apologising for Eclair's rudeness to Lucy and the other members of the guild, and Natsu is his usual good natured, fiery self while Grey gets into trouble for going around shirtless. These are some of the funnier moments in the story, and it is these as well as the main plot that keep it going. Everything is here we have come to know and love about Fairy Tail, the humour, fun, escapism, dark moments and touching ones, but most of all nearly all the characters are featured in the story.
Bonus Material:
Fairy Tail The Movie, Prologue, "The First Morning," (Japanese with English Subtitles Only), Original Trailer, Text less Opening Song, Text less Closing Song and US Trailer.
Verdict:
This is Fairy Tail at its best - fans of the series will love this full-length feature that will hopefully be the start of more to come.