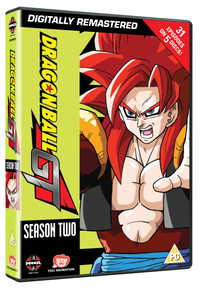 Dragonball GT Series 2
Released By:
Manga Entertainment
Rating:
12
Running Time:
250 Mins
Audio:
English & Japanese: DD 2.0
Release Date:
17/2/2014
Reviewed By:
Sandra Scholes
This is the box set everyone who is into Dragonball in a big way has been waiting for as Goku has to prevent several apocalypses to the world he has sworn to protect through the first series to this one, and it looks like it might come at the worst time too.
Goku's had it hard before, but not like this. As his dear friends are hurt and close to breaking point, it is Goku's fate to destroy the evil or be killed by it, and have his friends die too as a result of his failure. His enemies aren't many at first, just two cruel scientists who had created Android 17. This android is out to kill off anyone who gets in its way, and this is the start of evil rising from other enemies who rally to their new cause against the heroes who are desperately trying to stay alive. Evil could destroy the world the Dragon Balls have sought to save mankind so it will be interesting to see what Goku can do.
From the very beginning, we have seen Goku and his friends grow up and show that he is worthy of the Dragon Balls. As the final part of the series, Dragonball GT Season 2 has a few surprises in it, and some amazing battle scenes that prove this is one of the finest when it comes to young teen interest anime series.
Contains episodes 35-64 + movie "A Hero's Legacy"
Language: English, Japanese, English subtitles
Bonus Material:
None.
Verdict:
It's sad to see it end, but it's the end of a bloody great series!