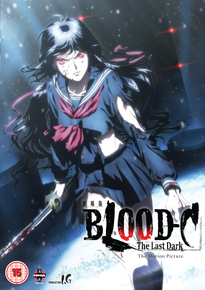 Blood C: The Last Dark
Released By:
Manga Entertainment
Rating:
15
Running Time:
250 Mins
Audio:
English & Japanese: DD 2.0
Release Date:
24/3/2014
Reviewed By:
Sandra Scholes
Remember the Blood C anime series? This carries on from what happened last time. In the series Saya had thought she was admired by her friends, living a double life where she socialized at school by day, and killed ravenous beasts called Elder Barns by night, but never once though she had been used as an experiment due to one man's evil intention.
By the end of the series, Saya knew who and what she was, part human and part monster, she was caught up in a town where her life was a lie and the people around her only waited for when she would discover the secret of her true identity. In Blood C; The Last Dark, Saya reflects on her past, the lives of her so-called friends in the town and how cruel they were to her, how she had been set up by them as well as the man who had her experimented on to create the perfect warrior. All these emotions cause her to want revenge on them.
Saya leaves the town, going to Tokyo where she believes the man may be located. She discovers she is not alone as there are other young people who want revenge on the same man. She decides to team up with them to end his life. Blood C: The Last Dark is a classy horror with a relentless heroine trying to right the wrong others have done to her and tale control of her own life. There is gore, blood and action a plenty. The movie takes it up a step from the original series and there is also the bonus of the production value of it, the clearer colours, better drawn characters and impressive backgrounds that makes it so watchable. The movie could be seen as self-explanatory to a degree, but unless you have watched the original anime series, you won't appreciate it half as much. The movie is different from the series as it is faster-paced, bloodier and Saya acts different from before - well she would, wouldn't she?
As Clamp are the original writers of the manga, there are a few in-jokes that are strategically placed throughout the movie that I liked a great deal. One of the most impressive for Clamp fans will be Saya going to Yuki's shop from xxxHolic where an older Watanuki is seen running the shop. The rabbit entity from a lot of Clamp's manga is in here too as part of the hacker kids GPS system in their car.
Contains episodes 35-64 + movie "A Hero's Legacy."
31 episodes on 5 discs and digitally remastered.
Language: English, Japanese, English subtitles
Bonus Material:
U.S. Actor & Staff Commentary, NoNeNoNe Theatre, Promotional Videos, Original Trailer, Original Teaser, U.S. Trailer.
Verdict:
Clamp fans will have a field day with this movie as it contains some memorable cameos from some of their most famous characters.