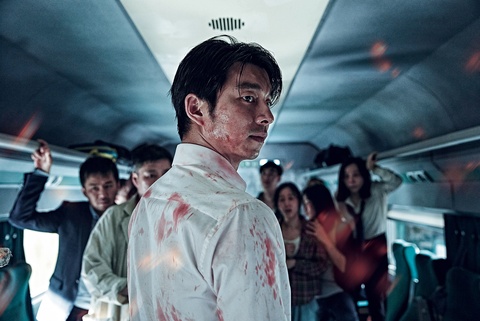 Train To Busan
Fast sell:
A father and daughter fight for their lives on a train full of the undead in this sensational blockbuster that has been hailed as one of the best zombie film ever made - a truly astounding, action-packed thrill-ride from South Korea, with social bite, an unexpected emotional punch, and a carriage-load of first class action.
Key talent:
Yoo Gong (The Suspect, Silenced)
Yu-mi Jeong (Silenced, Chaw, A Bittersweet Life)
Ma Dong-seok (Midnight FM, The Good, The Bad and The Weird)
An So-hee (Hellcats, Entourage)
Yeon Sang-ho (Director, King of Pigs, The Fake, Seoul Station)


Synopsis:
A mysterious viral outbreak pushes Korea into a state of emergency. The government declares martial law just as divorced Seok-woo and his daughter catch the KTX bullet train from Seoul to Busan to see her mother. But someone on the journey has been recently infected sending the hurtling carriages into complete chaos. As the living dead transform the voyage into a nightmare excursion, father and daughter and a small group of uninfected passengers must fight for survival. Get on board to stay alive!


We like it because:
After a year of megabudget tentpole and franchise disappointments, along comes TRAIN TO BUSAN, a stunning cross between The Raid, 28 Days Later and World War Z, and "finally, the blockbuster for which we've all been waiting" (The Guardian)

TRAIN TO BUSAN, the action debut from Korean animator Yeon Sang-ho has got the lot - white-knuckle tension, superbly choreographed action set pieces, and production values that would shame a Hollywood production - in short, it's "pretty much everything you could possibly want a zombie film to be" (The Telegraph) and, according to Empire, one of the best horror films of the year.
As well as being hailed as one of the best zombie films ever made, at its core, TRAIN TO BUSAN has a real heart, with the central relationship between a workaholic dad and his estranged daughter (Yoo Gong and Soo-an Kim) giving the film a powerful emotional punch. There is also a magnificent ensemble cast making up the passengers trapped on the Busan train, including a pair of young lovers, two elderly sisters, and, in a stand-out role, Ma Dong-seok as a man who will do anything to protect his pregnant wife.