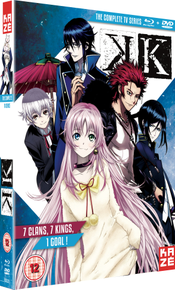 K - The Complete TV Series
Released By:
Manga Entertainment
Rating:
12
Running Time:
330 Mins
Audio:
English & Japanese: DD 2.0
Release Date:
14/4/2014
Reviewed By:
Sandra Scholes
Shiro Isana is a normal, everyday high school kid who lives a normal life, or at least that's what he is lead do believe until he is being chased by several factions, HOMRA, SCEPTER 4 and Kuroh Yatogama. These factions think he has killed Tatara Totsuka who is also a member of HOMRA. Shiro can't understand what is happening to his life as he has always believed he was a normal kid, not someone who has been caught on video killing a woman he doesn't even know.
Ever seen a naked woman running around with nothing to cover her modesty but her long hair? Skateboarding kids who look as though they are straight out of Samurai Champloo or baseball wielding kids who look like they have been dragged out of Paranoia Agent. Well, if you have, then you've come to the right anime to have fun and as usual this one has a fair mix of futuristic and traditional Japanese elements.
One of the major elements of the series that interested me was the reference to kings and colours as they somehow made sense in a chess kind of way at least to me.
As well as the Japanese voice actors giving their all with their acting abilities, there are a few familiar names in the English dub as well. Some might well remember Stephanie Sheh, Patrick Seitz, Sam Riegel, and Keith Silverstern from other anime such as Bleach and Naruto. As an action/supernatural anime it has also been a manga novel series also called K-Project which was written by GORA and illustrated by Yui Kuroe. Published by Kodansha it earlier serialed in Aria magazine and was well received by the shojo or female community.
Directed by Shingo Suzuki, written by GORA and licensed by Madman Entertainment and VIZ media with music by Mikio Endo it is one of the newest anime on the scene with a strange plot, unusual surroundings, and sense of past and future in one anime. It is clearly one to keep a look out for as it has all the interest for young or older viewers to get into.
Bonus Material:
None.
Verdict:
Original, fun and unusual.