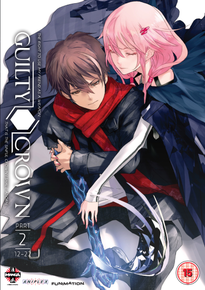 Guilty Crown Part 2
Released By:
Manga Entertainment
Rating:
15
Running Time:
250 Mins
Audio:
English & Japanese: DD 2.0
Release Date:
28/4/2014
Reviewed By:
Sandra Scholes
If you are a fan of Aquarion or most other Mecha influenced anime series this is colourful enough to get your attention. In the previous series, Inori was being taken away from Shu for Death to use her as a tool to resurrect Mana, he hates the fact she is being used as a sacrifice when he could have a chance to save her, but Shu only gets told he has repressed feelings about Mana.
In the past there is a moment in time when his sister Mana had found a boy lying on the beach. At first they thought he was dead, but he came to and she gave him a name he later changed to Gai and they had happy times together where he even became his best friend. Shu wonders why he had kept that memory locked away in his subconscious so when he follows where they are taking him, his captor Death says that Inori was originally sent to communicate with Mana and as they created her, why wold they want to give her back to him? Inori will become the body that Mana (Eve) will inhabit whether she will come alive and bring about the second coming of Lost Christmas. This means that the Apocalypse Virus will be sent around the world to kill again.
Just when it looks like Shu will die and Inori will be used to create havoc on Earth, Gai returns to help him out and also remind Shu what he didn't know about Mana. As an anime series, this one ranks him on being odd, but it is colourful and fairly modern-looking as far as the animation is concerned. The hair rendering quality on the men is better than some I have seen and the backgrounds are well drawn too.
Bonus Material:
Episode 15 Commentary, Episode 19 Commentary, Episode Previews 12 - 21, Guilty Crown 4 Panel Theatre, Part 6b - 11 "Reassortment" Series Digest, Text less Closing Song - Version 1 and Text less Closing Song Version 2.
Verdict:
Inspiring and action focussed and so very cool.