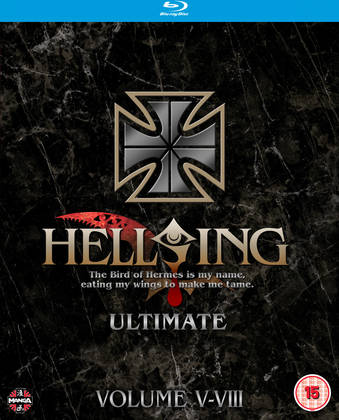 Hellsing Ultimate Volumes 5-8 Collection
Released By:
Manga Entertainment
Rating:
18
Running Time:
200 Mins
Audio:
English & Japanese DD 2.0
Release Date:
20/5/2013
Reviewed By:
Sandra Scholes
Set in post war London, the Nazis want to hit the Hellsing Organization hard, but also intend to destroy the whole of England, and let their vampire army feast on the blood of their enemies. While the Nazis are busy killing off the humans, the Vatican has stepped in to take over London, making it Catholic - something they have wanted to do for years. Though the archbishop doesn't expect Sir Integra and Alucard to come along as well.
Just as Ichigo from Bleach talks to his sword, Alucard communicates with his gun's spirit, who doesn't fit in with the period style the anime is set in. His spirit is called Jackal Willis (who intentionally looks more like Bruce Willis) talking in a more modern slang that is designed to raise one or two laughs. The anime style for this sequence is also different from the rest, and is more akin to Panty, Stocking and Garterbelt. Alucard isn't the only one who makes the anime a hit with his dry sense of humor, it's the reckless Sir Integra and the diabolical German accents throughout. There is no wonder Hellsing got an eighteen rating though, as the anime is full of blood, gore and unrelenting violence that never seems to stop.
The scale of the war on humanity gets dramatic the more it is watched, and the more it is watched, the more we delve into the darkness of the vampire mind. It is easy to identify Kyle Hebert and Liam O'Brien as well as Yuri Lowenthall as a certain French character (he sounds like a French Sasuke really). The death count is what you would find in a Schwarzenegger movie, and the Nazis fight with a blood thirst that can only be sated by even more human deaths. As mentioned before, the characters make the anime the success it is and Ceras makes use of her third eye when she and the Wild Geese come across a difficult opponent who turns out to not be the giant the others think she is. She is loved and admired by the Wild Geese, especially Pip, who keeps trying to kiss her even though she has a certain habit of saving them on several occasions when it looks like they might lose.
For those who have had the pleasure of seeing Trinity Blood or Fullmetal Alchemist Brotherhood, this is a surefire hit for anime fans everywhere.
Bonus Material:
The Dawn: A Supplementary of Hellsing OVA, Episode Commentaries, 45 Minute - Long Participating in A Legend Featurette, 45 Minute-Long Hellsing Dub Round Table, Anime Vegas 2010 Hellsing Panel and Fans' Questions Answered Featurette.
Verdict:
Blood, Guts, gore and mayhem - the undead never looked so cool in this feast of a box set fans of horror anime will treasure. This more than deserves a five stake rating!