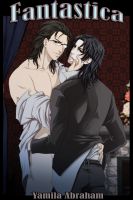 Fantastica: Part 2
Released By:
Yaoi Press
Writer and Artist:
Yamila Abraham
Cover Art:
Himitsu Studio
Release Date:
Out now!
Reviewed By:
Sandra Scholes
Continuing from the first novel, Fantastica Part: 2 has Felix, a warlock brought into 1850's New York where he falls hopelessly in love with a demon called Haydn – but as their love is forbidden due to an ancient law, they have to avoid other Hell beings or risk being heavily punished for what they have done.
Felix thinks about Haydn, his past and the life he must have led. The story goes into detail on his age and other things that go into making his reminiscing interesting reading. He believes he is unhappy being in Hell and on Earth and wonders if there is a place called Fantastica they can go to be happy and unbothered by demons and wizards who want to destroy the love they have grown for so long. It is interesting to see how Felix has gone from being a Playboy type who has affairs with many men, to only wanting to have his favourite demon around - could it be love?
With Haydn gone, Levi seems to have taken Haydn's place, and he suspects that he might even be pretending to be him to gain favour in some strange way. His mimicing his lover annoys him so much he intends to confront him on the matter, as he finds himself feeling vulnerable about his being without Haydn. Everyone else in the coven is happy unlike Felix, he wants more from life than the coven can give him - but when another warlock visits him during an intense game of poker, he is struck by how handsome he is with his deep red eyes and winning smile. He wants him to join his coven even though he already has his own to deal with, and he offers to give him all the power he wants seeing as he is a man who would do anything for power. What amazes him about the stranger is that he is so handsome and irresistable, yet he wants to resist him even if it proves the point that he is independant, strong and unable to be so easily influenced by another.
Felix has never killed anyone nor caused anyone pain from being associated with them, but if he decides to join this mystery warlock, he might be in for more than he bargained for as he wants Felix to kill other people in exchange for him getting the power he desires - this of course, goes against everything he stands for as a human. He would rather not kill humans, but how far will he go for getting what he has always wanted? In this particular world, warlocks aren't known for their moral fibre, but Felix is different, and one wonders how he will cope with the stranger inviting him into his unsusal world. There is more of a worked out story here, and there are more back stories on the characters that make it a more enjoyable read. If you liked Winter Demon and Spring Demon, this is a surefire hot read for yaoi fans the world over.
Fantastica Part: 2 is available to buy on Kindle, Smashwords, Kindle USA, Kindle UK, Kindle Canada, and Nook, Sony, Kobo and iTunes.
Verdict:
Fun to read and in keeping with Yamila's usual style.