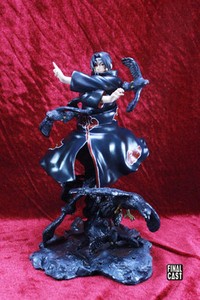 Naruto Hokage Uchiha Itachi Pre-Painted Resin Figure
He isn't the best fan favorite but this is a rather good model of him, and the bonus is he is pre-painted. The one thing I like about this model is its general look, the sight of Itachi manipulating his crows, and the swish of his Akatsuki outfit makes the overall model look amazing.
No one can say he doesn't look similar to his brother, Sasuke as the face is the one thing that can make or break a model. Whoever made this model and painted it got his likeness just right, down to the shinobi headband eyes and eyebrows.
Itachi's eyes are at his mangekyo sharingan stage and look well drawn. His outfit is shiny and the clouds are set of by the deep red and white of the detailing which sets it all off as one very striking Itachi Uchiha model. I like the image of the crows, one actually seems to be smiling (the one at the bottom) and the crows are strewn around the entire model making it animated, as if he is flying rather than stationary.
Verdict:
This is one that would take pride of place in anyone's room.